Goannafoot is a tortoiseshell she-cat with copper eyes. She is a current plain runner of CaveClan, her mentor having been Heronstar.
Description
Appearance
Coming Soon
Character
[draft] confident, stickler to rules, ruthless, courageous and level-headed. Also prone to outbursts of anger. also a little cocky.
Goannafoot is a confident young cat. She holds herself in high regard, and finds it hard to not have faith in herself. That's just how she is. Ever since she was young, she's been outgoing and doesn't let her negative thoughts hold herself back from doing the things she enjoys. The she-cat however, doesn't like to stray from any rules she is given. It makes her feel highly uncomfortable and uneasy. Goannafoot
Abilities
Coming Soon
Biography
Childhood
Coming Soon
Adulthood
Coming Soon
Relationships
Family
Coming Soon
Friends
Coming Soon
Love interest
Coming Soon
Rivals
Coming Soon
Peers
Coming Soon
Other
Coming Soon
Quotes
Coming Soon
Trivia
Coming Soon
Images
Life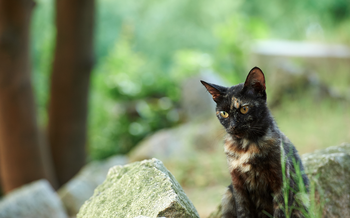 Pixels
Please do not edit this gallery unless instructed to.
Community content is available under
CC-BY-SA
unless otherwise noted.